MISSOULA PEDIATRIC DENTISTRY
---
At Missoula Pediatric Dentistry we're committed to being a leader in the field of pediatric dentistry by providing the highest possible level of care at all times, to all of our patients. Providing dental care to kids requires more than just medical proficiency, it requires an understanding of children. Over the years, MPD has a developed a very specific approach we call "The MPD Way".
FUN START!
It begins the moment you enter the office. You'll notice that our waiting room has toys, video games, even a fish tank right at the entry. We find these immediately put kids at ease as they play and connect with other kids in the waiting area while you check in.
Animated movie
XBox 360
Aquarium
Games
Toys for smaller children
and more…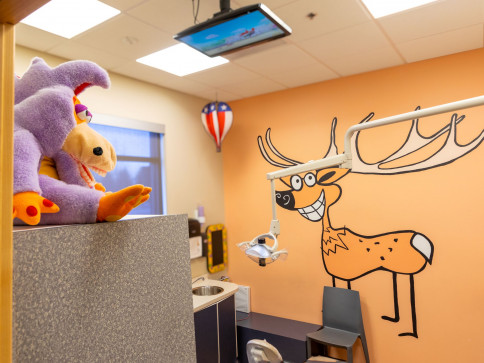 COOL EXAM!
When it's time to see the doctor, you'll see several other fun aspects to our approach. As your child is walked back to the exam room, the assistant will introduce themself and start to explain what we will be doing that day, as well as how they can earn prizes when we are finished. Once in the exam room, it gets even cooler. Kids get to choose from a collection of funky safety glasses to wear and they can watch movies and cartoons on ceiling-mounted flat screens during their exam.
Unique rooms with charming characters in each room
3-D charming characters on the walls
Unique glasses and comfortable chairs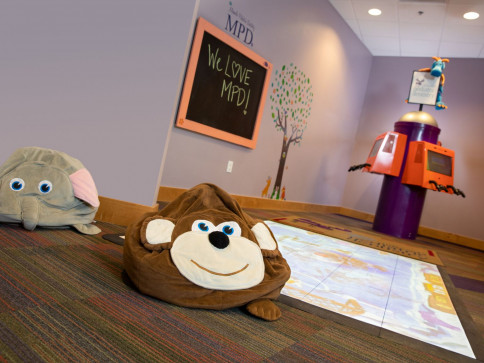 REWARDING EXPERIENCE!
After the exam is finished, you'll be fully briefed on what the doctor finds and be provided with instructions to make sure your child's teeth continue to be healthy. Your child will receive a token to choose a prize out of our Token Towers to finish off their visit with us!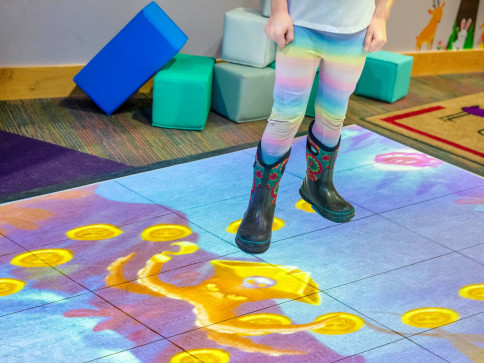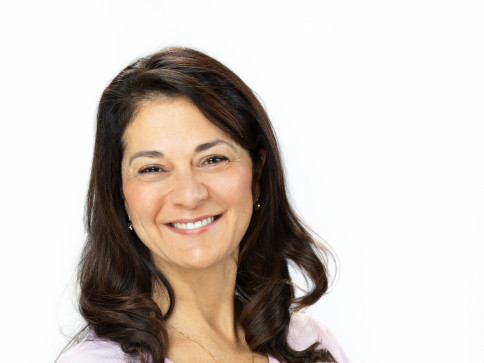 Why all the fun?
The last thing a trip to the dentist should be is scary. So we make it the opposite. A 4-year-old patient told her father that "going to [MPD] is like going to Disneyland!" We're not sure we'd go that far, but we do know that having fun at the dentist leads to lifelong habits that keep your child's teeth and mouth healthy and their smiles happy.

Lead Dentist and Owner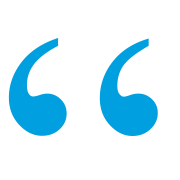 My daughter has been seeing Dr. Tiede since she was 6 months old, and we love her! She has a great staff, and they are fantastic with children!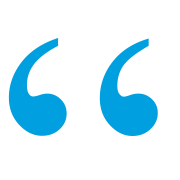 I absolutely love this place and the people that work there. You're very professional and absolutely amazing. My daughter is handicapped, and they were very amazing with her. They were extremely caring and very gentle.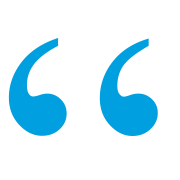 Missoula Pediatric Dentistry is phenomenal! I wish my dentist was this caring & accommodating. My daughter has been going here for 14 years & actually likes going to the dentist. The entire staff is amazing.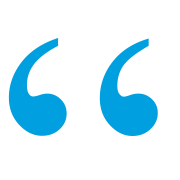 The staff at Missoula Pediatric Dentistry are amazing! They are so accommodating with getting my kids in on short notice and we love each one of the doctors. No matter who we see they know what is going on with my child, even if the last visit was with a different doctor. I always recommend them to family and friends!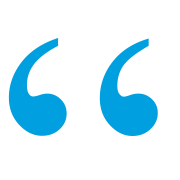 My son does not like the dentist, to be honest I used to joke we would be asked to not come back because he is so difficult! This last time we had the most amazing, patient, kind assistant named Jayden! She took so much time talking through each step with my 4-year-old. I can't say thank you enough to her and Dr. Tiede for being so kind and helpful! You both have helped him understand going to the dentist isn't scary!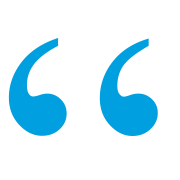 We've had several emergency teeth issues that their office was immediately willing to see me. I have never had any issues with procedures happening without my consent. I feel confident that my children are reciting top notch quality care, we are all being treated with the utmost respect and that at any time I can discuss any concerns or issues I may have with them without any repercussions.