PEDIATRIC DENTISTRY
---
Keep Them Smiling Brightly!
VISIT OUR OFFICE FOR PEDIATRIC DENTISTRY SERVICES IN MISSOULA, MT – (406) 541-7337
Pediatric dentistry services include a wide range of treatments and preventative services. From performing routine teeth cleaning to applying dental sealants, we work hard to give our patients healthy smiles.
Missoula Pediatric Dentistry specializes in pediatric dentistry services. We take the time to get to know our patients and help them feel comfortable. For friendly staff and effective treatments, choose us as your Missoula, MT dental office.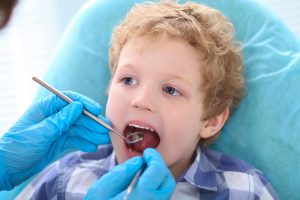 WHAT HAPPENS DURING A TYPICAL VISIT?
If you're thinking of scheduling your child's first routine teeth cleaning, you may be wondering what all it will involve.
When you visit Missoula Pediatric Dentistry, we'll:
Welcome them and make them feel comfortable
Explain to them what we are going to do
Introduce them to the equipment used
Take x-rays, if needed
Clean their teeth thoroughly and give brushing advice
Apply fluoride, sealants or anything else they need
Send them on their way with a new toothbrush
We understand that each child is different, so we tailor our services to meet their unique needs. Contact us today at (406) 541-7337.